Fibreglass Applications creates replica column capitals and new emblem.
Fibreglass Applications was approached by a major religious organisation to reproduce column capitals to match the units in its UK headquarters in London.
We made the replica column capitals in GRP which was quicker and more economical than traditional materials.
Working from photographs and dimension drawings, we created the replicas from the originals in Rome.
We first set out a full size unit and produced a pattern made from MDF.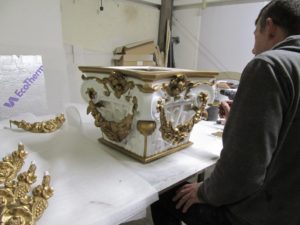 This was sealed and a silicone mould was created from which GRP 'Fibreglass' replicas were produced.

We then reverted to more traditional paint and gilt finishes to complete the job.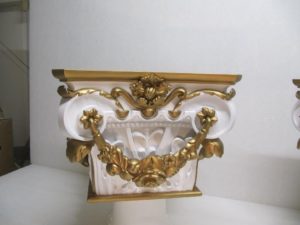 Our client was delighted with the result and asked if  we could design and produce a new emblem for their new conference centre in Mayfair.
We did this in a similar way: MDF pattern work, silicone mould and GRP painted product etc.
Their old design was extremely complex and a new modern and simpler shape was needed.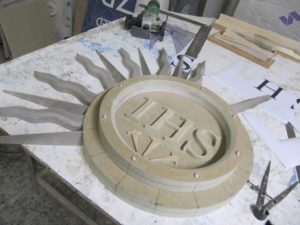 The project required design and pattern work preparation for client approval and then the creation of the mould for the finished product.
At Fibreglass Applications, we create religious icons for all sorts of groups and faiths and usually via the architect or builder, but always with the same detail and quality.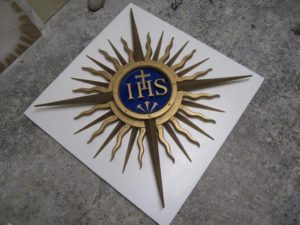 It's always fixed up front pricing regardless of overrun – we will not "spoil the ship for a ha'porth of tar…"
For more examples of our GRP moulding work, please visit Star Rubber Environmental Ltd – https://www.star-rubber.co.uk/star-buddies
Look at those gorgeous comic animals all made in rubber for children's playgrounds – no need to wonder who could have created this delightful set of sculpts and moulds…
               "Noster Populus Facit Discrepantiam" – Our People Make the Difference…